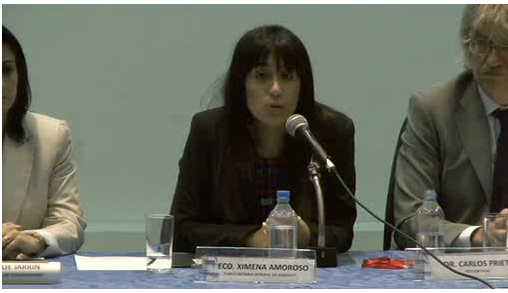 Ximena Amoroso, Ecuador's Subsecretary of Science, Technology and Innovation (SENESCYT) invited Ecuadorian society to help "transparently write a draft software law for the country.
Amoroso was speaking at the inauguration of the first Minga for Technological Freedom, an event to collaborate towards regional Latin American freedom.
Her full speech:
"It is our time…
As relevant actors in a revolution in democracy, it is our time to transform that which surrounds us the tangible and intangible; it's our time to debate and push towards the change of the productive matrix towards shared and open knowledge. 
Maybe that's why we find ourselves here, within a university, people who are not so very different from those who only a few decades ago were debating and building the protocols that we use today to communicate online. Welcome: hackers, lawyers, academics, artists, public sector workers from the various Ecuadorian institutions and and the people from Ecuador and around the world who will join us these next three days of knowledge interchange. 
Free software contains within itself various characteristics that turn it into a key tool in the task to change Ecuador's productive core, to make it a social bio-economy of knowledge. 
Firstly, because it is a free knowledge product constructed by a community, a horizontal work, cooperative and transparent, which suggests the potential of a productive organism with those characteristics. 
Secondly: free software has an enormous user value, which forces the rest of software to face their limited value of exchange. 
Thirdly, free software, its production and maintenance, is, in practice, an engine of the local economy. It can become the catalyst of the small scale network of enterprise in the popular and solidarity economy, in the areas of information technology, and knowledge, which are key sectors for the country. The practice of producing value through open knowledge, which free software embodies, will allow Ecuadorian society to take ownership of that knowledge, and add value to national production. 
In fourth place, free software has a minimum guarantee when faced with the path towards technological sovereignty, which is nothing more than the concrete expression of national sovereignty in the realm of science and technology. Real appropriation of knowledge is an unavoidable step to end the technological/cultural neocolonialism and achieve technological autonomy.
And finally, to point out, that without exhausting the characteristics of free software, to those that turn it into a strategic element in any process of social and productive change, it becomes a cohesive element, joining cultures and languages and overcoming differences thanks to the possibilities that free software development holds for intercultural discourse, multiple languages and accessibility. 
Nevertheless, despite all the strong points of free software,  of which I've only pointed out a few, we can't look away from the complexities that a change such as that which we propose in Ecuadorian society implies, and to which we must be vigilant and prepared. A change that can't happen without a massive social migration to a new paradigm of technological consumption, a new territory not yet mapped, and where the rules are different: in cyberspace, where many years ago John Perry Barlow solemnly declared its own independence. A change that will, finally, demand of us all commitment, coherence and strong will. A road that no government can transit alone, and that will need at least, a boost from the mos movements that are most committed to free software and open knowledge. 
At SENESCYT, our interest is to help put in motion a political initiative which I'd like to announce here and now, in the framework of this minga for technological freedom, as a public and formal invitation that it be you, the conscientious and organized community concerned with free knowledge, that create a draft of a Law for Free Software in Ecuador. 
I'm convinced that your theoretical and practical experience open and collaborative construction can provide the experts at the SENESCYT and the IAEN university a draft of a legal text that our assembly people can solidify, a contextualized text, close to the reality of the country, realistic but at the same time revolutionary."